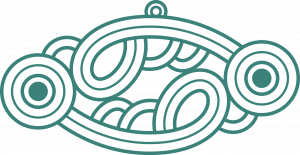 Our Te Tari Kaumātua, Office for Seniors logo is a pendant that represents the prestige and mana of our kaumātua.
This pendant has two interwoven manaia from separate generations, protecting and supporting each other. Haehae lines (carved lines) represent the mauri of past and future generations.
E Kore nei e teae i te rā ki te waru.
'A day will not suffice for the scraping'. The shaping of pounamu or nephrite was a long and painstaking task, hence the saying is equivalent to 'Rome was not built in a day'. A difficult project requires time for it's accomplishment.
In the case of this colour palette (which is reflective of the qualities of pounamu), this kīwaha speaks of a fine craft and that carving pounamu is an arduous task. Much like a finely crafted taonga pounamu, so too have our elders been moulded and crafted with time.
Aotea Pounamu is the rarest form of pounamu. Coveted for its unique hues of blue and turquoise and for its glowing iridescence.