Eastern Bay Villages: Te Kokoru Manaakitanga
Eastern Bay Villages: Te Kokoru Manaakitanga, works to reduce isolation and vulnerability among pakeke/seniors, enabling them to have a good quality of life as they age in their own homes. Group members are not passive recipients of care -they are encouraged to be active in decision making and to contribute their skills and time. This community-led development approach, supports members to build strong connections and deep relationships based on shared passions and interests. You can find out more on the Easter Bay Villages website here.
Beginnings
Ruth Gerzon, one of the initial founders, was inspired to start Eastern Bay Villages when visiting her 91 year-old uncle. He was an important figure in her life who had no living relatives. He was frail and isolated, yet adamant he wanted to remain in his own home. Mainstream services provided him with good physical care and someone to do his shopping, but Ruth recognised that in order to thrive he needed strong social connections.
After talking with her extensive network and a range of community groups, Ruth called a public meeting which attracted 35 people, who also saw the need to reduce isolation and vulnerability among local pakeke/seniors. A core group was formed and over the next 18 months, and met regularly to determine its purpose and direction.
It was formally established as a Trust in 2017 and began to source funding. With a 43% Māori population in the Eastern Bay of Plenty, it was a no-brainer to set up a two whare (Tāngata Whenua and Tāngata Tiriti) model with Māori and Pākehā co-chairs and coordinators. This structure has given the group excellent networks and processes to engage with Iwi.
Like any good community organisation, Eastern Bay Villages has a great vision and mission. The group also jokes that 'we are just a bunch of old people trying to avoid the rest home', but there is a serious intent behind their work.
Eastern Bay Villages today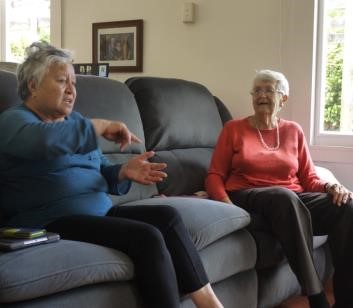 Five years after that first public meeting, 150 plus members of Eastern Bay Villages offer their time and skills to support one another and projects that benefit the community as a whole.
Eastern Bay Villages/Te Kokoru Manaakitanga works alongside services to fill the gaps and address the causes of isolation and loneliness among pakeke, but members are adamant this is not another service where people become clients and passive recipients of care.
"We see all the time how shared interests are a great way to build strong relationships," says Jo-Anne Tahuri, Pou Arahi, Te Kokuru Manaakitanga.
"We are not a health or social service, but work alongside home and personal care providers, filling in gaps beyond their reach. We alleviate loneliness by connecting people and encouraging deep relationships."
Hot tips
1. Establish key relationships early
"Our population is nearly 50% Māori so we knew a partnership approach with local Iwi was vital. We wanted a treaty-based relationship and established a two whare on Board system that enabled this." Ruth Gerzon, Eastern Bay Villages Coordinator.
2.Define your core purpose and stick to it
"We were clear from the beginning that we wanted to be a community-led organisation, but it is so easy to slip into becoming a service organisation. We have to keep watching out for that all the time and reminding ourselves of why we're here." Ruth Gerzon, Eastern Bay Villages Coordinator.
3. Hold introduction sessions for new members
Use these sessions to clearly outline the purpose of the group and its Kaupapa to ensure everyone's expectations are met.
4. Go where the enthusiasm is
Use all kinds of forums to listen to what members want and if they are willing to put energy into an activity or project, then follow their lead.
"This is true community-led development. We listen all the time to our members. We just follow their lead and do what they have energy for and do what they want." Jo-Anne Tahuri, Pou Arahi.
The Eastern Bay of Plenty/Whakatāne on the east coast of the North Island is often called the 'Sunshine Capital' of Aotearoa/New Zealand. Known for its glorious coastlines and ancient forests it is home to over 32,000 people. Of these, 15.3% are aged 65 years or over and 43% Māori. On the other hand, poverty affects the area deeply. Incomes are lower in Whakatāne and this is reflected in every statistic from household income (40.8% of people aged 15 year and over in the District have an annual income of $20,000 or less and the gap increases for Māori), to lower rates of home ownership, as well as access to phones, internet and vehicles.
Membership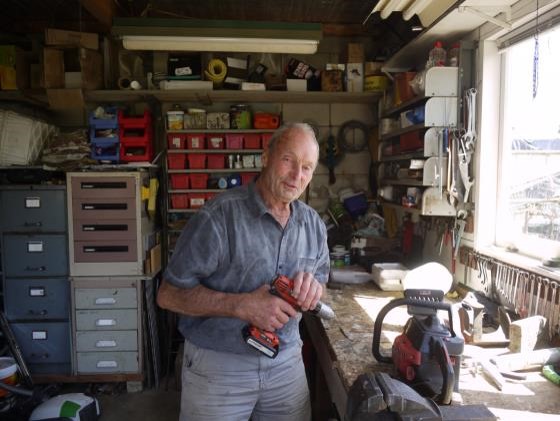 Members find their way to Te Kokoru Manaakitanga by coming along to coffee groups with friends, or reading articles from the Grey Matters columns. They are also referred from health services such as Doctors and Primary Health Workers. From here, the magic of the group which gives members opportunities to share skills, knowledge, connect and take on responsibilities has proven extremely attractive.
Members are invited to regular coffee groups, where ideas are shared and members can offer to develop projects. Sometimes this is followed by a public meeting to gauge community support for a new project idea. There are social events, outings, music groups and learning events with public speakers. There is knowledge sharing, skill sharing and advocacy

Sometimes sub-groups are formed or funding sourced for larger projects such as:
Homesharing - places an older person (usually in their 80's or 90's) needing support to stay in their home, with a younger person (usually in their 50's or 60's) who provides companionship and about ten hours of active support for board.
• Funeral/tangihanga – a non-profit affordable, whānau-led eco-friendly funeral service.
• Digital Tutu Project - to support seniors to choose and learn to use cellphones, tablets and useful apps.
• Oranga Kai/Just Cook Programme – a partnership programme with the Nutrition Foundation supporting members with cooking and nutrition.
• Medical and social advocacy group – attending medical appointments with members, supporting applications for grants for mobility scooters
• An Accessible Transport Project is being developed, bringing in many other sectors: tertiary institutes, Councils, business people. Plans are for accessible vans, carpooling and a ride hailing (Uber style) community owned app to connect people in rural communities.
Challenges
Trial and Error
The group has a strong ethos of listening to what members want, and if members are willing to invest their time and energy then the approach is to give an activity a go, even if it is not successful in the long run.
"We're lucky we have members who are not afraid to give us feedback. We get things right about half the time and don't mind getting things wrong. It's an important way for us to learn and grow as a community." Jo-Anne Tahuri, Coordinator, Te Kokuru Manaakitanga
Cultural sensitivity
Another major challenge for the group is managing racism. Sadly, the bi-cultural focus is difficult for some people to understand, and more than one conversation has been needed with members. The bi-cultural Kaupapa is now clearly explained to new members at their introduction session.
"How do you support people to be good members? Sometimes we need to remind them that respect and cultural responsiveness is a bottom line." Ruth Gerzon, Coordinator, Eastern Bay Villages
Avoiding service provision
An ongoing challenge is to make sure members don't slip into service provision. For example, during the first lockdown in 2020, local newspapers couldn't be delivered. Newspapers are important for older people who often don't use the internet, so the group used volunteers to bring newspapers as well as food, sanitiser and other essential items to members by members. Interestingly, their main role was taking things from one place to another – jigsaw puzzles, books, plants, baking. However, there came a point after the Lockdown when people could do this for themselves again, and the activity discontinued.
Members continually reflect back on their core purpose and principles to 'catch each other out' on the question: Are we providing a service, or are members supporting each other?
"We continuously ask ourselves, is this the best use of our time? Because our time isn't infinite. Secondly, we continuously ask ourselves as Co-ordinators/Pou Ārahi, is our work ensuring members primarily build relationships with each other rather than with us?" Ruth Gerzon, Co-ordinator, Eastern Bay Villages
How is it resourced?
As well as the many, many hours contributed by members, a community minded church is a key venue and working from home keeps expenses low. In the last year, around $100,000 has been sourced from a range of funders to fund three part-time co-ordinators. In addition, a further $122,000 has been sourced from the Lottery Covid Well-being Fund for new projects such as the Transport Initiative and extending the programme into Ōpotiki.
Unlike a service, which makes people into passive recipients of care, this community development approach enables all members to contribute their skills and time. The group has managed considerable outreach and impact with a budget of just under $100,000 a year.
"We follow the dictum of Cormac Russell who exhorts us to create a community of interdependence with a welcome to the stranger at the edge," Ruth Gerzon, Coordinator, Eastern Bay Villages
"We all need services but they can weaken communities by making people into passive recipients of care. For well-being people need the sense of purpose and belonging that comes from being active citizens. As someone who worked in social services, I think about this often in my work with the group."